Dear Organic Lovers,
At the moment, I'm searching for a great organic brand for hair coloring without PPD, peroxides, ammonia etc. After hours researching and reading many positive reviews, I decided to buy & try Logona's products.
Why Logona?
Well, I gave up on searching for permanent hair color brands as I noticed they all contain ingredients such as PPD or peroxide. And if your stylist/colorist tells you they've found a natural or organic permanent hair color, do not believe them! In addition, there is a question whether 100% organic hair dyes do exist. Therefore, I'm trying to find the most natural products that cover the best…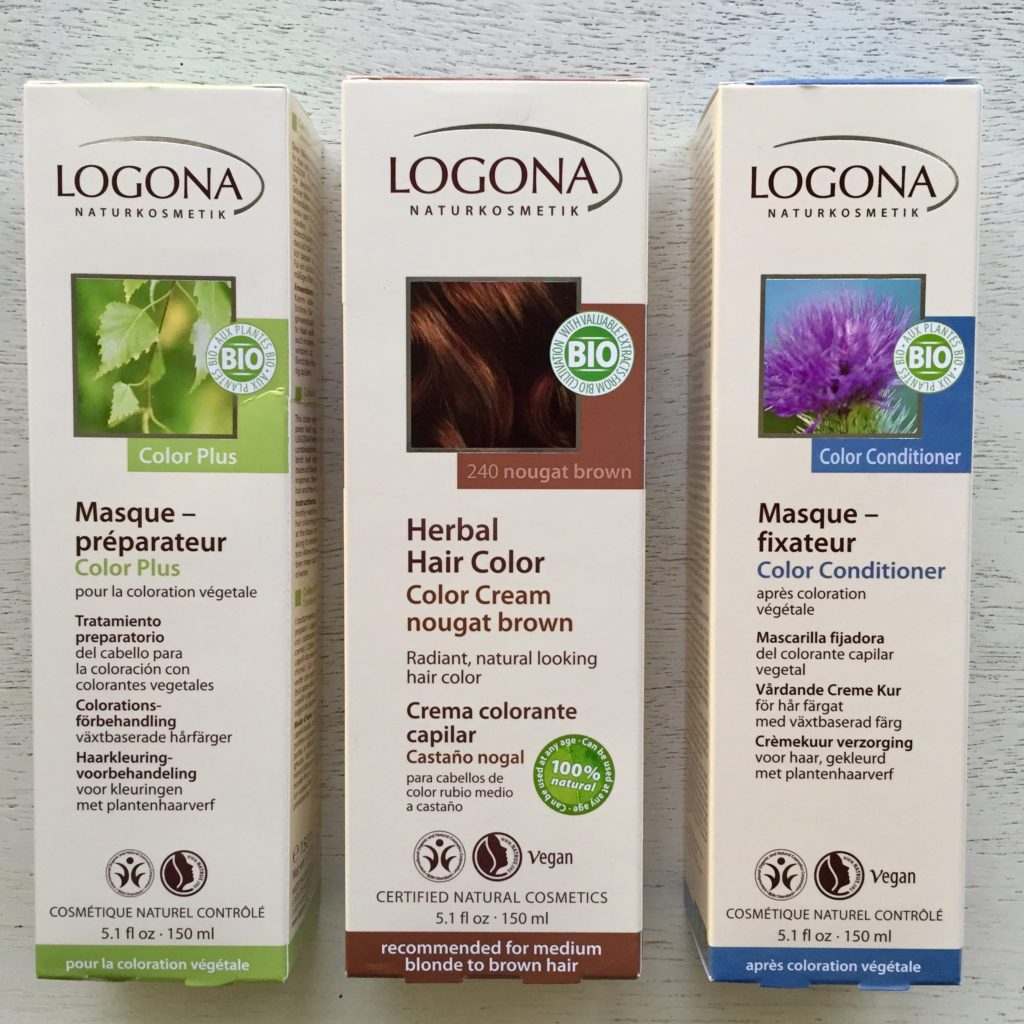 Back to Logona :). I first tried out their Herbal Hair Colour 080 Natural brown. After applying, bits of dried pieces of the paint started to fall (never happened before). It was really messy. And although I forgot to use the heat, my 10% of grey hair was not really covered. Was it the fact that I used regular shampoo & conditioner directly after coloring? I wonder why it didn't work well for my hair. However, compared to brands I used in the past, my hair felt very healthy and was shiny. I believed in Logona and decided to try out one of their cream based products in combination with their "Color preparation mask" with green mineral clay and color conditioner!
3 weeks later:
It has been almost 3 weeks since I colored my hair and I have to say that the result is much better than my first trial with Logona's Herbal Hair Colour 080 Natural brown. I chose the "Color Crème 240 nougat", because I like to avoid reddish tones, which my hair will pick up easily with coloring. This color leaves my natural color as is, and turned the grey to blonde. Furthermore, the ready-to-use cream formula is very easy to apply, not messy and stinky (most of the natural products have a special herb smell). When using the product it is important just to rinse the cream out (you will notice that it has some shampoo in it) and not to use any other shampoo or conditioner (the next day I used their color conditioner). After 1 or 2 full head applications, you can just do the roots to save time/money.
Logona is mentioned in Eluxe Magazine's TOP 11 BEST NATURAL HAIR DYES .
How to cover grey hair?
Nikki Ferrara, a colorist at the Sally Hershberger salon in New York City, recommends using two boxes of color: one that matches your natural color and one that's a shade darker. Ferrara mentioned "to apply the darker one from your roots down an inch or two, and continue with the lighter shade to your ends. Since greys are the most translucent (read: hardest to color) at the roots, you need a darker shade to cover them sufficiently. If you have more greys than pigmented strands, your best bet is to see a pro for bold, lasting color".