DivaMoM is a product of the Hungarian brand SkinDelight, which only uses high quality and organic cold pressed oils. The handmade and organic body oil is made of 99.1% certified organic ingredients:
Coconut (cocos nucifera) oil*, jojoba (simmondsia chinensis) oil*, sweet almond (prunus amygdalus dulcis) oil*, shea (butyrospermum parkii) butter*, cocoa (theobroma cacao) seed butter* essential oils: ylang-ylang (cananga odorata)*, palmarosa (cymbopogon martini)*, mandarin (citrus reticulata), lemon (citrus limon)*, orange (citrus sinensis)*, petitgrain (citrus aurantium leaf), rosewood (aniba rosaedora), bergamot (citrus bergamia)*, lemongrass (cympopogon citratus)*, patchouli (pogostemon cablin) vetiver (vertiveria zizanioides), grapefruit (citrus paradisii)*,
*certified organic.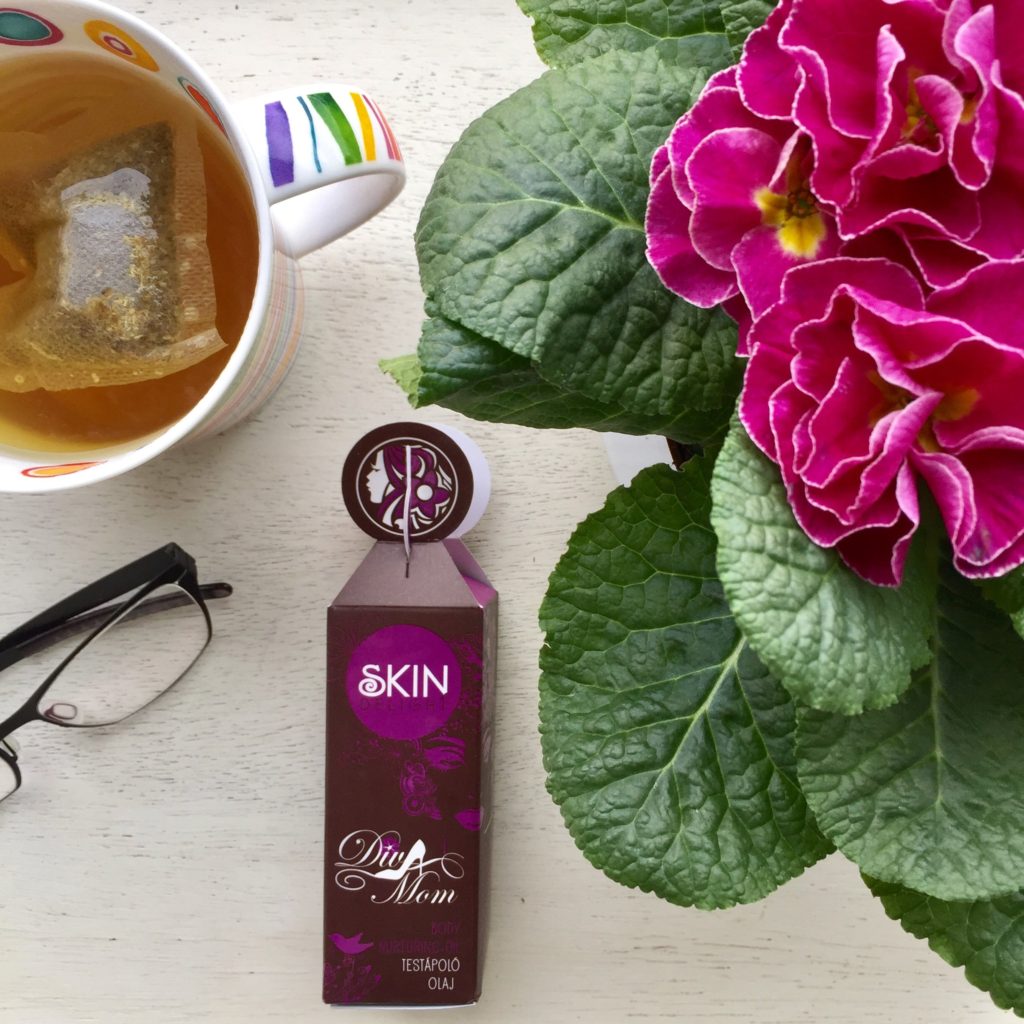 Why DivaMoM?
Today, I'm 28 weeks (6th month) pregnant and my belly feels very often itchy and tight but is also growing really fast now (already gained 12kg!)! My fear of stretch marks is therefore also increasing. According to Heidi Waldorf, MD., an associate clinical professor of dermatology, stretch marks happen when your body grows faster than your skin can keep up with. This causes the elastic fibers just under the surface of the skin to break. Growing that fast can leave you with stretch marks, especially on your belly and breasts, two areas that grow the most. Stretch marks can also show up on the thighs, buttocks, and upper arms. And according to Babycentre's pregnancy weight gain estimator, by the end of my pregnancy I will gain 11.3-15.9 kg (1 st 11 lb – 2 st 7 lb)….Oh boy!
In addition, Babycentre explains that by the time you reach your due date, just over a third of your extra weight will come from your baby, the placenta and amniotic fluid. Every mum and baby is different, but here are some averages:
At birth, a baby weighs about 3.3kg (7.3lb).
The placenta, which keeps your baby nourished, weighs 0.7kg (1.5lb).
The amniotic fluid, which supports and cushions your baby, weighs 0.8kg (1.8lb).
The other two thirds of extra weight is due to the changes that happen to your body while you're pregnant. On average:
The muscle layer of your womb (uterus) grows dramatically, and weighs an extra 0.9kg (2lb).
Your blood volume increases, and weighs an extra 1.2kg (2.6lb).
You have extra fluid in your body, weighing about 1.2kg (2.6lb).
Your breasts weigh an extra 0.4kg (0.9lb).
You store fat, about 4kg (8.8lb), to give you energy for breastfeeding.
Your body is changing a lot and your skin needs to be protected!
Therefore, DivaMoM's organic and handmade blend created in Bali is a great body oil for pregnant women as the ingredients mentioned above help the skin to extend with great flexibility to avoid stretch marks (coconut, jojoba oil, sweet almond oil etc.) and help to balance out mood swings (orange, rosewood, patchouli etc).
Review DivaMoM:
It's a great organic luxury product to pamper yourself! I use it every night after my shower/bath. I can really smell the essential oils mentioned above (especially the citrus ones!) and it really gives me a "zen" feeling :). The oil absorbs very easily. As pregnant women have to be extra careful with certain herbal teas and pills (can cause miscarriage!) , I believe in the power of DivaMoM's ingredients. It's natural and it can't harm your baby! I love using essential oils. For my oil diffuser, I often mix lavender and orange before I go to sleep. It helps me to relax and to sleep deeper.
Furthermore, I love the fact that Skindelight's products are made purely by HAND and that no machines are involved. Furthermore, their production is earth conscious and you can really notice that the brand uses premium ingredients. All the base oils are organic, cold pressed and unrefined to ensure that they conserve the enzymes, vitamins, minerals in their original raw and alive form.
I love DivaMoM and can't wait to try out more products from Skindelight!
They ship worldwide and the service is great!
Check here for more info about the brand! J