The following products contain propolis and manuka. What is the difference and what are the health benefits?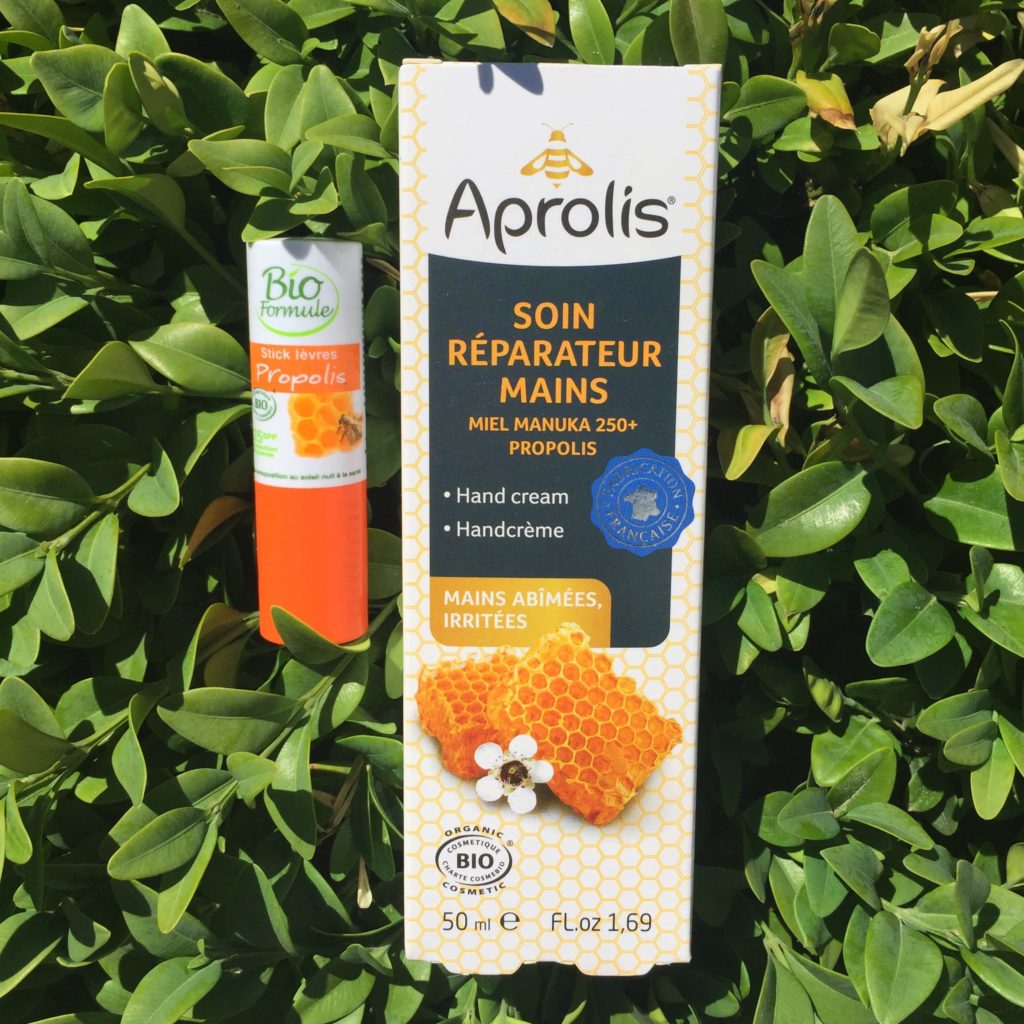 1) Propolis:
Honey isn't the only thing that bees make. Propolis or "bee glue" is a greenish-brown mixture that honey bees produce by combining their own saliva and beeswax with exuded substances they collect from tree buds, sap flows and other botanical sources. It is used as a coating to build their hives.
What are the health benefits?
Propolis is thought to have antibacterial, antiviral, antifungal, and anti-inflammatory properties. According to Dr. Axe (Draxe.com), Propolis:
Helps Combat Cancer.
Treats Candida Symptoms.
Stops Herpes (Cold Sores) Reproduction.
Prevents and Treats Common Cold and Sore Throats.
Fights Parasites.
Improves Fertility for Females with Endometriosis.
Propolis in hand cream:
Propolis extract helps to repair and strengthen the skin's barrier. Use often to soften skin and prevent dryness and cracking.
2) Manuka
Manuka honey is produced in New Zealand by bees that pollinate the native manuka bush. It is common knowledge that all honey contains a natural occurring enzyme which produces hydrogen peroxide, a known antiseptic with proven antibacterial properties. However, with manuka honey, the nutritional content can be 4 times higher than normal flower honeys. Honey producers have developed a scale for rating the potency of manuka honey. The rating is called UMF, which stands for Unique Manuka Factor. UMF® ensures that all manuka honey sold with the mark has been independently tested for its methylglyoxal level and must have been packed and labeled in New Zealand.
To receive a UMF® grading, a honey must have the presence of DHA (dihydroxyacetone), methylglyoxal, and leptosperin. The UMF® rating is a measure of the attributes and values that make up manuka honey, and assures purity & quality. UMF 20+ manuka honey has a methylglyoxal level of approx. 830 mg/kg.
The UMF rating is thought to correspond with the concentration of methylglyoxal and other compounds.
What is Methylglyoxal (MGO)?
Most genuine high-grade manuka honey from New Zealand includes a UMF rating on the label. Some honey producers instead use an MG (methylglyox) or MGO rating. MG is, besides hydrogen peroxide, another antibacterial component in manuka honey. It is found in most types of honey, but usually only in small quantities. The higher the concentration of MG, the stronger the antibiotic effect.
Honeys without a UMF or MG/MGO rating are generally low-grade honey without the beneficial characteristics that have made premium manuka honey so much in demand.
Not all honey labeled as manuka honey contains significant levels of antibacterial factors. To be considered potent enough to be therapeutic, manuka honey needs a minimum rating of 10 UMF. Honey at or above that level is marketed as "UMF manuka honey" or "Active manuka honey."
Active Manuka Honey and Methyglyoxal
However, not all manuka honey contains the active ingredient Methylglyoxal. Manuka honey with levels of activity less that UMF 16+ ,MGO 250+ does not have powerful antibacterial, antiviral, antiseptic benefits.
When seeking the health benefits of manuka honey, one must pay great attention at the variety of products available on the market. (The Aprolis cream in the picture contains MGO 250+)
Rule of thumb: a Manuka honey label must contain the words active umf(mgo) manuka honey followed by a number. If the indication is only active, you are not purchasing the manuka honey with significant amounts of methylglyoxal beneficial to naturally healing several affections.
UMF® manuka honey in handcream:
The hydrating and antibacterial properties of UMF® manuka honey have been shown to alleviate and improve skin conditions such as dermatitis and eczema (the Aprolis hand cream has No UMF® label).
Review of the products:
Now that we know more about propolis and manuka, below are my thoughts about both products:
Bio Formule's Lip Stick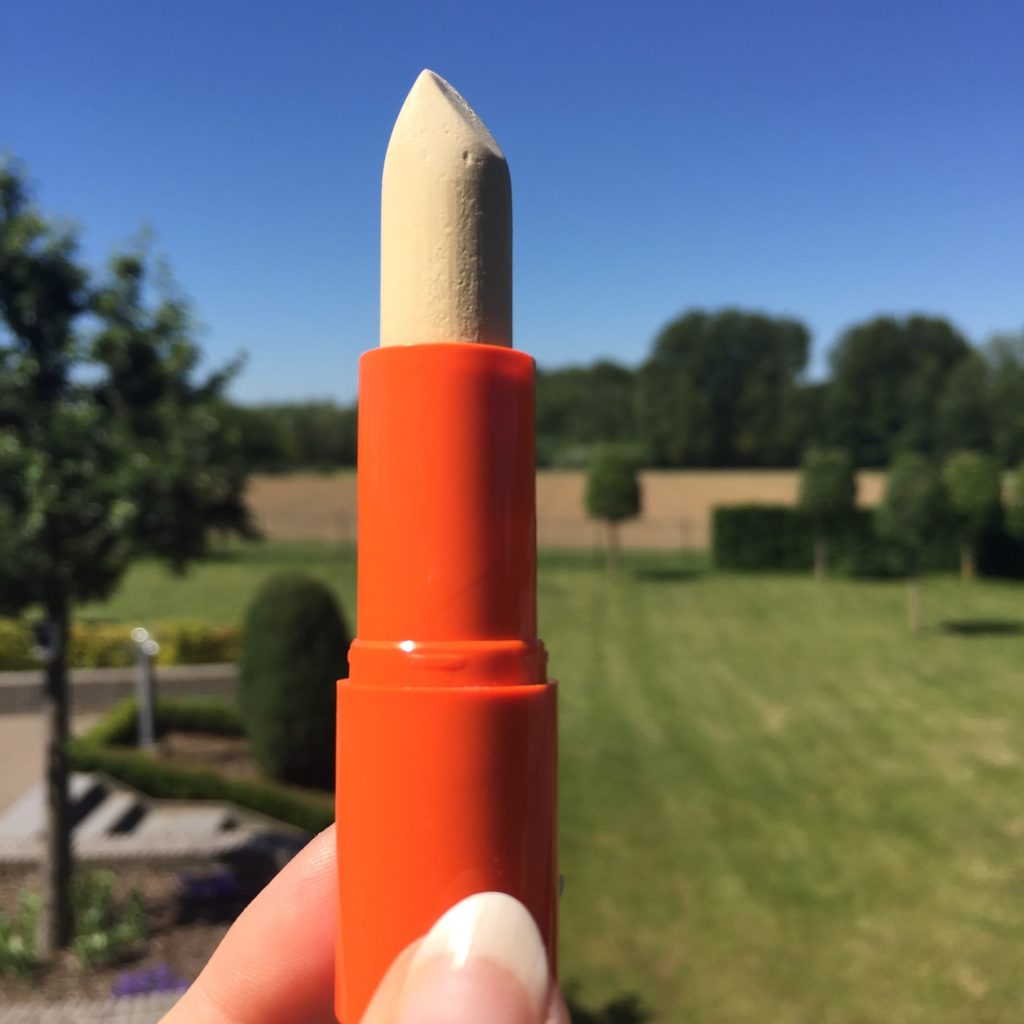 Propolis helps in the regeneration of lips by preventing crack infections and offering antioxidant and anti-inflammatory action.
Due to the fact that it has an Ecocert label, an SPF and contains propolis and other natural ingredients, the product sparked my interest right away. It does leave a whitish finish but lasts a super long time on the lips. Furthermore, it has no fragrance or shine and the SPF 25 protects your lips against UVA/UVB rays.
100% of all the ingredients are natural or from natural origin
45% of all the ingredients come from Organic Farming

*According to the The Skin Cancer Foundation (www.skincancer.org), vitro tests have shown that SPF 15 sunscreens filter out 93 percent of UVB rays, while SPF 30 protects against 97 percent and SPF 50 98 percent. But remember, it is important for the sunscreen to include broad-spectrum protection that also shields adequately against UVA.
Aprolis Hand cream
I love the natural "honey" smell of the hand cream. It's not greasy or oily and absorbs very fast in the skin. It is easy to apply and leaves the hands well nurtured.
As mentioned above, propolis extract helps to repair and strengthen the skin's barrier. It softens the skin and prevents dryness and cracking. Manuka honey is used for its hydrating and antibacterial properties.
Besides Manuka and Propolis, other powerful ingredients in the hand cream are:
Dragon blood or "Sangre del drago"(known for the intense red color): will heal and repair your skin
Jojoba and Macadamia oil: will soften and nourish your skin
In addition:
99% of all the ingredients are natural
81% of all the ingredients come from Organic Farming
I'm very happy with both products.
Don't forget to follow me on Instagram ;)!