GARNIER BIO is the new organic certified skincare range of Garnier. I recently discovered this new organic product range while doing groceries in the supermarket "Carrefour".
1. The Ecocert Label
I have a very sensitive – combination skin and when I buy beauty products, I always double check the labels and ingredients."Garnier Bio's (Garnier Organic in the UK) "Organic Lemongrass Detox Gel Wash" sparked my interest immediately as I noticed the Ecocert label on the packaging.
It's the first product of Garnier Bio's range that I have bought so far.
Why do I prefer to buy Ecocert-certified products?
First of all, when you see "Organic" or "Bio" on a packaging it doesn't mean that it is real organic. It's just marketing and it can still contain toxic ingredients. Therefore, it is always important to check the labels and ingredients!
What is ECOCERT?
As mentioned in one of my earlier posts (Organic Ecocert Sunscreens and Lovea), ECOCERT is an organic certification organization, founded in France in 1991. It is based in Europe but conducts inspections in over 80 countries, making it one of the largest organic certification organizations in the world.
In relation to natural and organic cosmetics ECOCERT defines criteria for a natural and/or organic standard that guarantees respect for the environment throughout the production line, through respect for the consumer and the promotion of natural substances.
ECOCERT is one of the most recognized (and first!!!) organic certification bodies in the world and one of the most respected. ECOCERT had become a benchmark in organic certification worldwide, winning the confidence of consumers and professionals.
What are the guidelines?
To be classified as ECOCERT, a formula can't contain any of the following types of ingredients:
GMOs
Parabens
Phenoxyethanol
Nanoparticles
Silicon
PEG
Synthetic perfumes and dyes
Animal-derived ingredients (save for those naturally produced from animals, like milk or honey)
Plus, a minimum of 95% of the total ingredients in the formula must come from natural, organic origin. ECOCERT products' packaging must also be biodegradable or recyclable.
How do I identify the ECOCERT label?

There are three different ECOCERT labels to look out for.
The natural and organic label (which will read "Organic Cosmetic") requires that 95% of all plant-based ingredients in the formula and 10% of all ingredients by weight come from organic farming.
The natural label (which will read "Natural Cosmetic") is a bit more lenient, requiring 50% and 5%, respectively. The third, COSMOS, was formed by ECOCERT and four other organic and natural cosmetics companies from across Europe (including France, Germany, Italy, and the UK) with the goal of standardizing beauty certification on a global level. This label signifies that a product is certified by not just one, but five organizations—and makes use of the principles in the ECOCERT standard.
The third, COSMOS-standard association was formed by ECOCERT and consists of four other founding members who now authorise and oversee the certification, including the Soil Association (UK), Ecocert (France), Cosmebio (France), BDIH (Germany) and AIAB/ICEA (Italy). The main goal is to uphold the inspection and certification of organic and ecological products, eco-friendly systems and respect for the environment throughout the production chain. Today, over 1,600 companies, and more than 25,000 products sold into more than 45 countries are certified under COSMOS.
Are there any exceptions?
Although ECOCERT is stringent about their requirements, some cosmetic ingredients can't be certified as organic because they aren't sourced from farming (think: water, salts, and minerals).
2. Garnier Bio's Organic Lemongrass Detox Gel Wash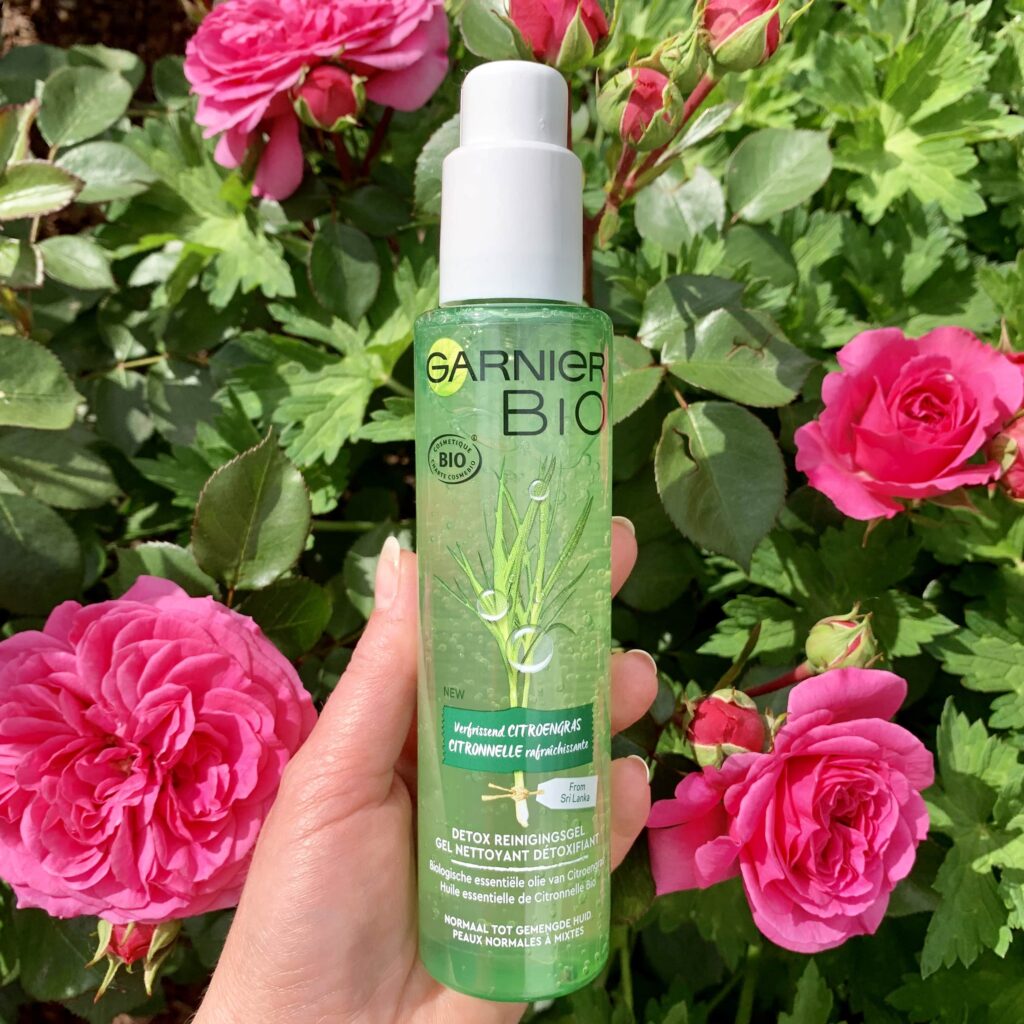 I first want to mention that I have a very sensitive combination skin. Even with some natural products, my skin can get irritated (probably allergy for some ingredients). So I'm always very careful with buying beauty products.
About the Garnier Bio's product, I love everything about this new gel wash. It's so exciting to see packaging that is environmentally-friendly, being 100% recyclable, and the ingredients that are 98% natural, and most importantly, ingredients that are ethically-sourced (organic lemongrass).
I use the gel wash as an evening face cleanser and I really like how fresh, deeply clean and soft the skin feels. The fragrance is pleasant and you can smell the citrus ingredients. It is also safe on sensitive skin like mine.
Some people who reviewed the product complained that the product left their skin dry and therefore recommended it for people with a more oily skin. My skin stayed the same. Maybe I would notice something in the cold winter months. Anyways, I always tend to use a lot of moisturizer once I take off my makeup. I primarily like how gentle it takes off my makeup at the end of the day.
More about this Garnier Bio's product:
Vegan Formula: No animal derived ingredients or by- products inside. • Infused with Organic Lemongrass Essential Oil.
COSMOS ORGANIC certified by Soil Association according to COSMOS standard
Cleanses away dirt, oil and pollution residues without drying skin out.
This bottle contains 100% recycled plastic. This bottle is 100% #recyclable.
Dermatologically tested and suitable for sensitive skin
Ingredients:
AQUA/WATER • SUCROSE• COCO-BETAINE • GLYCERIN • COCO-GLUCOSIDE • DISODIUM COCOCYL GLUTAMATE • XANTHAN GUM • CYMBOPOGON SCHOENANTHUS OIL • CENTAUREA CYANUS FLOWER WATER • SODIUM CHLORIDE • SODIUM COCOYL GLUTAMATE • ARGININE • PROPANEDIOL • CITRIC ACID • SODIUM BENZOATE • SALICYLIC ACID • LINALOOL • EUGENOL • LOMINENE • CITRAL • PARFUM/FRAGRANCE
This list doesn't include toxic chemicals  that can be dangerous for you, as mentioned in the guidelines of the ECOCERT label (also see one of my latest Instagram posts) Therefore, it can be concluded that this is a SAFE product to use.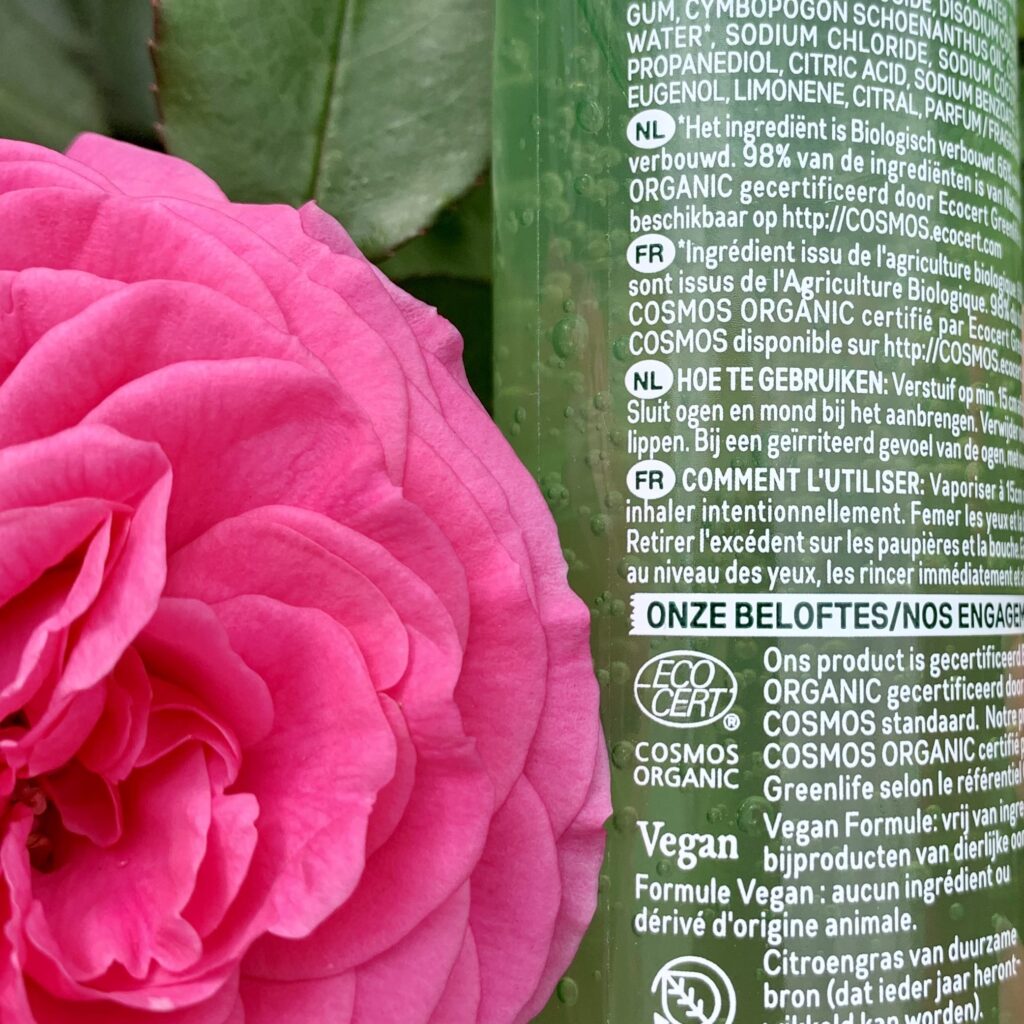 Very important to know
A beauty care product is COSMOS ORGANIC certified only if:
95% minimum of the plants it contains are organic
At least 20% of organic ingredients are present in the total formula (10% for rinse-off products)
I'm very curious what other people think about this product. If you also have tried this product, please don't forget to comment below ;).