People are using more and more non-toxic deodorants and other skincare products.  The beauty industry is undergoing a resurgence to remove toxins and to introduce natural and sustainable ingredients into our favorite products. Why not ditch all your toxic products if they are putting your health at risk?
Well, I'm so happy to collaborate with the Dutch non-toxic brand Happinesz. I recently received their hand balm and deodorant to review.
So why did I like to work with the brand?
Their organic body care products are plastic free, toxins free, GMO's free & cruelty free.
The Happinesz natural deodorants have an organic coconut oil base and are 100% CLIMATE PROOF.
There is no water added in the Happinesz organic hand balms so you only need a tad. The absence of water also means there are no microbial preservatives, and a much greater percentage of active ingredients
The products are produced in Europe (The Netherlands) and shipped worldwide.
100% Organic
100% Vegan & Vegetable
Not tested on animals
The aluminum jars they use are 100% recyclable or can be used as small item storage for your earphones, paperclips, candies, earrings, pills, bolts and nuts etc.
Aluminum in deodorants
You probably noticed that many deodorants and antiperspirants are made with chemicals that are hard to pronounce and may leave you scratching your head. Also, there are rumors that certain chemicals in deodorants and antiperspirants could lead to breast cancer, kidney diseases or allergies. One of the chemicals is called aluminum.
Aluminum compounds are used extensively in cosmetic and pharmaceutical products. In antiperspirants, aluminum salts are the ingredients that prevent sweating. When they are applied to the skin and come in contact with sweat, the pH rises causing the aluminium salts to precipitate out and form a plug over the sweat glands. Sweat continues to be produced by the sweat gland but it just isn't able to reach the surface of the skin.
Recent research published by the National Center for Biotechnology Information suggests that frequent use of antiperspirants can cause aluminum to accumulate in breast tissue, but this doesn't prove that aluminum salts can cause breast cancer.
In fact, breast cancer tissue doesn't seem to contain more aluminum than normal breast tissue. "Aluminum might be of greater concern if you have kidney problems, especially if your kidney function is about 30 percent or less." says Benjamin Chan, DO, a physician at Penn Family Medicine Phoenixville. Dr. Chan explained, "Too much aluminum in your body can cause bone diseases or dementia. Usually, excess aluminum is filtered out of your body by your kidneys. So, people with weakened kidney function can't filter aluminum fast enough. However, if you have normal kidney function, your kidneys can usually process the amount of aluminum from antiperspirants and cosmetics that is absorbed through your skin."
This is why the US Food and Drug Administration (FDA) requires antiperspirant manufacturers to include warnings specifically for people with kidney disease (Penn Family Medicine, 2019).
Because of the uncertainty of the effects of aluminum, you see more and more natural antiperspirants promoting their aluminum-free status.
Review Happinesz Suntribe non-toxic deodorant

The Dutch company Happinesz has four different deodorants in their assortment: Non Fragrance Natural Deodorant, Vegan Friendly Deodorant Mohave, Urban Summer Sensitive Skin Vegan Deodorant and
the All Natural Deodorant SUNTRIBE. This review is about the "All Natural Deodorant SUNTRIBE".
First of all, I love the packaging of this product. It's very small, recyclable, re-usable and great to put in your purse. The product also has a great texture (Check out my recent IG post to see a short video about it). It's not sticky and very easy to apply.
It also has a gender-neutral "citrus-lemongrass" fragrance. The latter is mainly due to the citrus and lemongrass ingredients:
Here are all the ingredients:
100% Organic Coconut Oil, 100% Organic Beeswax, Zea Maiz, Baking Soda and a blend of 100% organic essential oils – 100% Ecological Essential Oils: Orange, Mandarin, Lemon, Bergamot, Lemongrass, Lavender, Vanilla, Cedarwood, Rosewood, Ylang Ylang, Frankincense.
In the ingredient list, there are two great ingredients that are known to fight odor-causing bacteria: baking soda and lemon. Baking soda is great to combat body odor without subjecting your pits to a variety of chemicals. Citric acid, in for instance lemon juice, can also kill odor-causing bacteria. There are people who swear by the lemon deodorizing method (people swipe their armpits with a sliced lemon on a daily basis – DIY lemon remedies on your skin are not safe when you are exposed to the sun!).
My workouts and the hot summer days were great to test the product. I must say, I'm very happy with the results! It really works! There were no unpleasant odors, even after working out! My husband didn't believe me and wanted to test the product as well during his workouts/ hot days. He was very surprised. It's the best natural aluminum-free deodorant we tried so far!
Furthermore, as mentioned earlier, the product is cruelty, aluminum and plastic free. It is also alcohol-free, used as an antiperspirant and doesn't leave white marks.
-> I give this product 5 stars! Yeah!
Interested to know more about the product? Check out the Happinesz Suntribe deodorant  (Price: €6,99)
Review Happinesz Taos Non-Toxic Hand Balm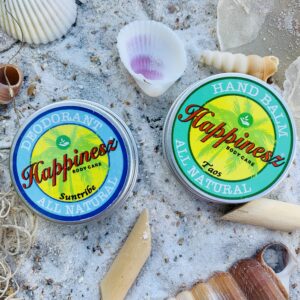 I not only received a great deodorant but also an interesting hand balm.
Because of the constant use of the alcohol hand gels and soaps during this COVID-19 pandemic, my hands are always very dry. It's a great time to test the toxin-free Happinesz Taos hand balm. Nowadays, I not only have hand gel in my handbag but also this compact hand balm. It's very practical!
The ecological plastic-free packaging of the hand balm is the same as the deodorant, which I described above. I love it.
The texture is also similar to the Suntribe deodorant: not sticky and easy to apply. It absorbs very fast. Furthermore, there is no water added in the Happinesz organic hand balms so you only need a little bit for great results. The absence of water also means there are no microbial preservatives, and a much greater percentage of active ingredients.
The hand balm smells very natural and neutral. As mentioned on Happinesz's site, in the TAOS hand balm there is a blend of 9 organic essential oils like lavender oil, cinnamon oil, peppermint oil, ylang ylang oil and more. The fragrance is very gender-neutral.
Besides the organic oils mentioned above, here are the other organic ingredients of the hand balm:
Organic Olive Oil Extra Virgin – Rich in Vitamins A, D, E, and K which have antioxidant, antibacterial properties. Olive oil also has moisturizing properties and softens the skin.
Organic Cocos Oil – Absorbs easily into the skin, smooths, moisturizes and nourishes the skin and nails and is rich in antioxidant, anti-fungal antibacterial properties
Organic Almond Oil – Treats many skin conditions like dryness, psoriasis and acne, reverses sun damage, contains high amounts of Vitamin E and has high anti-inflammatory properties.
Organic Cocoa Butter – Moisturizes, hydrates, heals chapped skin and fights aging of the skin, reduces skin irritations, protects against free radicals so it helps to fight dark spots, dullness of the skin and skin aging. It also improves the texture of your skin.
Organic Beeswax – Improves healing of wounds, forms a barrier between the skin and the environment without clogging the pores. Has a high content of Vitamin A, softens the skin, has high antibacterial properties and together with cocoa butter reduces stretch marks.
Organic Rapeseed Wax – Softens the skin, protects against dehydration and gives skin elasticity a boost and fights skin discoloration and scars.
Are you interested to know more about this product? Check out the Happinesz Taos Hand Balm (Price: €9,99).
I give this product 5 stars! I love the price, the fact that it has a plastic-free packaging and that the balm contains organic non-toxic ingredients. It's good for you, your wallet and the environment ;)! Definitely try it out!
*They have also a very rich ultra moisturizing  natural hand cream. Interested? Check out their "Highly Effective Natural Hand Balm Cream MOHAVE" (€9,99)