Reviews: Earth Line, Organic Himalaya Toothpaste and NextBrush
While shopping at Holland and Barrett in Maastricht, I was searching for:
A natural/organic anti-aging cream
Organic toothpaste without "dangerous" ingredients (SLS, Fluoride, Saccharine etc.)
An ecological toothbrush
I ended up buying the following products:
1.Original Cosmetics "Earth Line" – White Tea Lift Intense Day & Night Cream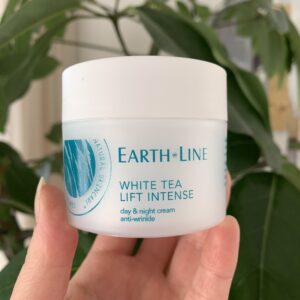 Why did I choose for this product?
Ingredients are natural, also has the ICADA label
EcoControl Label
BDIH Label
Vegan
No paraffin, no perfume, dye-free & not tested on animals
Free of microplastics (label Zero Plastic inside) #Plasticfree
Earth Line is one of the product lines of the Dutch brand "Original Cosmetics".
The composition of each of the Earth.line products is based on Vitamin E, organic herbal extracts and plant oils, combined with valuable active ingredients which both nourish and work to support and enhance the skin's natural strength. The products are suitable for use by both men and women.
UVA protection:
UVA rays penetrate the skin more deeply than UVB rays. The free radicals caused by these rays accelerate the ageing process by destroying the collagen and elastic fibers in the skin. It is these fibers, which provide the skin with its firmness and elasticity. All Earth.line creams are formulated with the right amount of UVA protection so you can adequately protect your skin on a daily basis. Extended exposure to UVB rays can cause sunburn and may damage the skin. Therefore, you should ALWAYS apply sunscreen before you go to the beach etc.
Review:
This 40+ anti-aging White Tea cream is good for all skin types and has an UVA protection. It contains white tea, soy, aloe vera, horse-tail, omega 3-6-9 and vitamins. These effective anti-oxidants and ingredients which reduce wrinkles and firms the skin hydrate, protect and rejuvenate the skin.
I'm 36 years old and never used Botox or fillers. Although no cream can replace both options, I first want to find ways to decrease my fine lines and to improve my skin via natural products/ways.
I love this Earth Line product. You notice straightaway that the cream contains natural ingredients. It smells very natural and feels very nice on the skin. It's a lightweight cream that can be used for morning and night!
In addition, the cream absorbs very fast. After applying, you can also feel a light lifting effect. My skin feels very soft and I have no allergic reactions (I have a very sensitive combination skin). It's a great cream for the summer!
Definitely try it out! You can buy this product for €28.99 at Holland and Barrett's online site
-> For optimal results, the brand recommends to evenly apply the facial cream and then gently tap it into the skin rather than massaging it.
INGREDIENTS
Aqua, Macadamia Ternifolia (macadamia oil)**, Glycerin (soya), Cetearyl Alcohol, Simmondsia Chinensis (jojoba oil)**, Butyrospermum parkii (shea butter)**, Porphyra Umbilicaris (red alga), Glyceryl Stearate, Prunus Dulcis (almond oil)**, Helianthus Annus (sunflower oil)**, Sodium Cetearyl Sulfate, Aloe Barbadensis (aloe vera)**, Equisetum Arvense (horsetail)**, Calendula Officinalis extract (marigold)**, Limnanthes Alba (meadowfoam), Cocos Nucifera (coconut oil)**, Cetyl Palmitate, Salix Alba extract (willow bark)**, Fragrance (natural perfume)*, Camellia Sinensis (white tea), Titanium Dioxide, Ceramide 3, d-Alpha Tocopherol (vitamin E), Tocopherol, Sodium Cocoyl Glutamate, Phytic Acid, Citric Acid, Lactic Acid, Citronellol*, Farnesol*, Geraniol*, Limonen*, Linalool*.
*from natural essential oils
** from controlled organic agriculture
2.Himalaya Organic "Neem & Pomegranate Toothpaste " (NL: "Neem & Granaatappel Tandpasta")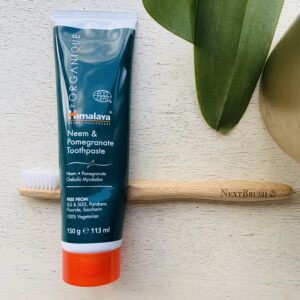 Why did I choose for this product?
Neem in dental products can reduce pain from toothache and improve dental health by cleaning the teeth and gums and alleviating gingivitis.
Free from: SLS & SLES, Parabens, Fluoride & Saccharine
100% Vegetarian
No animal testing
Packaging made from recycled material, chlorine-free, printed with soy-based ink
ECOCERT approved
99.7% of the total ingredients are of natural origin
5.4% of the total ingredients stem from certified organic farming
The Himalaya Drug Company is an Indian company established by Muhammad Manal in 1930 and based in Bengaluru, Karnataka, India. It produces health care products under the name Himalaya Herbal Healthcare whose products include ayurvedic ingredients.
What is Ayurveda?
Ayurveda is a traditional Indian system of medicine. It aims to preserve health and wellness by keeping the mind, body, and spirit in balance and preventing disease rather than treating it. To do so, it employs a holistic approach that combines diet, exercise, and lifestyle changes.
Ayurvedic herbs and spices are also an important component of this approach. They're thought to protect your body from disease and offer a variety of health benefits, including improved digestion and mental health (healthline.com, 2019)
Today the products of Himalaya are sold in 106 countries across the world and the company has more than 290 researchers that utilize ayurvedic herbs and minerals.
Review:
My gums are very sensitive (often irritated) and I have often issues with canker sores (fluoride and other toothpaste additives can cause it). Since I started to use this toothpaste, I haven't had any canker sores… It's my favorite toothpaste. I'm also happy it doesn't include parabens, SLS, phthalates, petroleum, silicones, artificial fragrances or colors. The packaging of the brand is also ecological.
The organic toothpaste of Himalaya is a gentle and refreshing paste. The minty toothpaste has a hint of bitterness but that's expected from neem. It has a foamy texture.
INGREDIENTS:
Xylitol (Himalaya Birch wood)
Glycerin (vegetal)
Aqua (Water)
Calcium Carbonates
Hydrated silica (Natural Mineral)
punica granatum extract [1] (Pomegranate)
Lauryl glucoside (from coconut oil & sugar)
Sodium cocoyl glutamate (from amino acids and vegetable oil)
Disodium Cocoyl Glutamate
Stevia Rebaudiana (Stevia) Extract
Natural flavour
Chondrus crispus (carrageenan or Irish moss)
Glucose
Menthol (from peppermint leaves) [1]
Xanthan Gum (natural thickener)
Sodium benzoate
Sodium Chloride (sea salt)
Potassium sorbate (Natural preservative)
Thymol (Thyme Leaf Oil)
Embelia Ribes Fruit Extract (Vidanga)
Terminalia Chebula [1] (Chebulic Myrobalan)
Terminalia Bellerica Fruit Extract (Belleric Myrobalan)
Phyllanthus Emblica Fruit Extract (Amla)
Acacia Nilotica (Indian Gum Arabic) Bark Extract
Melia Azadirachta Leaf Extract (Neem)
From organic agriculture
The product is formulated with organic herbs like Neem and Triphala, and contains xylitol to help fight plaque and enhance your sparkling smile. The Chebulic Myrobalan and Pomegranate Extract support healthy gums; and Pomegranate is a powerful antioxidant. Acacia Arabic Extract is used for its soothing properties, whilst Neem has been used for centuries to clean teeth. Together, these botanical extracts make for a top-performing, natural toothpaste.
What is Triphala?
Triphala is an herbal preparation used in Ayurvedic medicine. It is a combination of three plants that are native to India:
Indian gooseberry (Emblica officinalis or Amla)
black myrobalan (Terminalia chebula)
belleric myrobalan (Terminalia bellirica)
Some research indicates that rinsing the mouth with triphala can help with oral health problems, such as:
gingivitis
plaque
sores
fungal infections
You can buy this product for €7.99 at Holland and Barrett's online site
3.NextBrush Bamboo toothbrush
Why did I choose for this product?
The toothbrush is made from bamboo (see picture above)
bpa-free (bpa is an industrial chemical that has been used to make certain plastics & resins since the 1960's.)
The toothbrush is 98% biodegradable (much better than the plastic alternatives)
Eco-friendly
Not tested on animals
Review:
As mentioned above, my gums are very sensitive and my dentist recommended to use soft brushes. Therefore, I bought the soft version of NextBrush. Compared to the original plastic brushes I used in the past, the hair of this brush (nylon-6) feels a bit stiffer. However, the brushing in general went well. The hair of the brush didn't irritate my gums and it reached all the areas.
Furthermore, I noticed some plastic (not much) in the packaging. I hope they will change it soon as many people (including me) buy this product to help the environment…besides that, I like the product and I'm considering the buy it again.
You can buy this product for €3.49 at Holland and Barrett's online site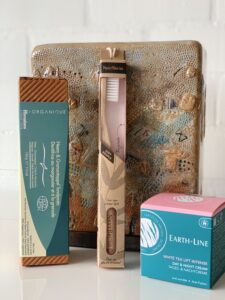 Have you tried the products yet? What are your thoughts?
Interested to stay informed about my reviews? You can also follow me via Instagram
You may also like my review about the new Dutch brand AVA Natural Skincare