Are you searching for an organic lifting eye gel without toxic ingredients? Well, in London I was searching in department stores such as Harrods (all brands contained some toxic ingredients!), Selfridges (sell interesting organic brands!) and in the city. I fell in love with the lifting eye gel of The Organic Pharmacy, which is made with 81.5% organic ingredients.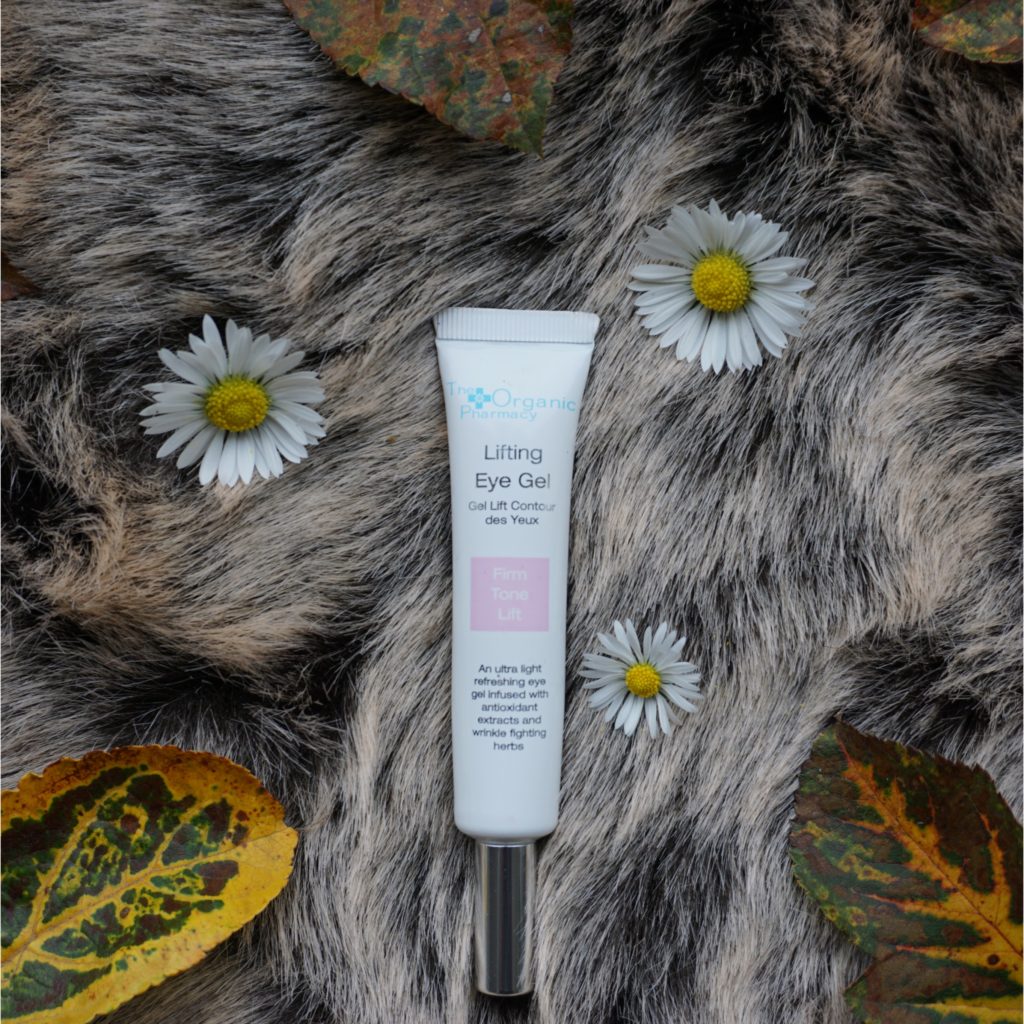 My review:
As for the packaging, I'm happy with the packaging of this product.
As mentioned in one of my earlier posts, I don't like eye creams packaged in jars because of their inability to retain the integrity of active ingredients. Every time you open these jars, you expose the eye cream to air, causing the product to oxidise and weaken over time. Plus, there are concerns about hygiene. Therefore, only select those that are packaged in air-restrictive, opaque containers to keep the light- and air-sensitive ingredients stable.
This product is based on gel and this formulation is best for oilier skin and those who prefer lighter texture. Gel-based formulas are comprised mainly of water, as opposed to a larger percentage of oil.
The light cooling gel of this product smells like natural products/herbs and absorbs quickly to illuminate tired-looking eyes. The eye area feels refreshed, revitalised and toned. Great to wear under make-up! The lifting eye gel also didn't cause breakouts or irritation.
The main ingredients:
Kigelia to firm and tone -> Cultivated throughout sub-Saharan Africa, trees of the kigelia africana and kigelia pinnata species yield a large sausage-size fruit that the region's indigenous people have long used for medicinal and cosmetic applications. Many cosmetic companies have acknowledged the fruit's skin-enhancing properties through the addition of fruit extract to some of their products. Kigelia's active ingredients include steroidal saponins and the flavonoids luteolin and quercetin. These phytochemicals help strengthen and stabilize the collagen fibers that support the skin, thus having a firming effect
Bilberry to reduce puffiness –> Bilberry (looks like blueberry) contains anthocyanosides which are potent antioxidants which strengthen blood vessels and capillary walls, improve red blood cells, stabilize collagen tissues such as tendons, ligaments and cartilage and has cholesterol lowering effects. They also increase retinal pigments that allow the eye to tolerate light.
The essence of Persian rose refreshes and revitalizes tired eyes
Tamanu to repair -> TamanuOil heals damaged skin and is a natural nut oil that is extracted from the nut kernels of the Tamanu Tree after the nut kernels have been collected and left to cure naturally over a 6-8 week period. Its benefits are notable for scarring, stretch marks, minor cuts and abrasions, rashes, sores, and much more.
I'm happy I bought this product and can't wait to review other products of The Organic Pharmacy!