When visiting Neal's Yard Remedies (NYR) store in Covent Garden in London I fell in love with the ingredients of the "Lengthening Mascara" and the "Vitamin E & Avocado Night Cream". I just had to buy and try both products!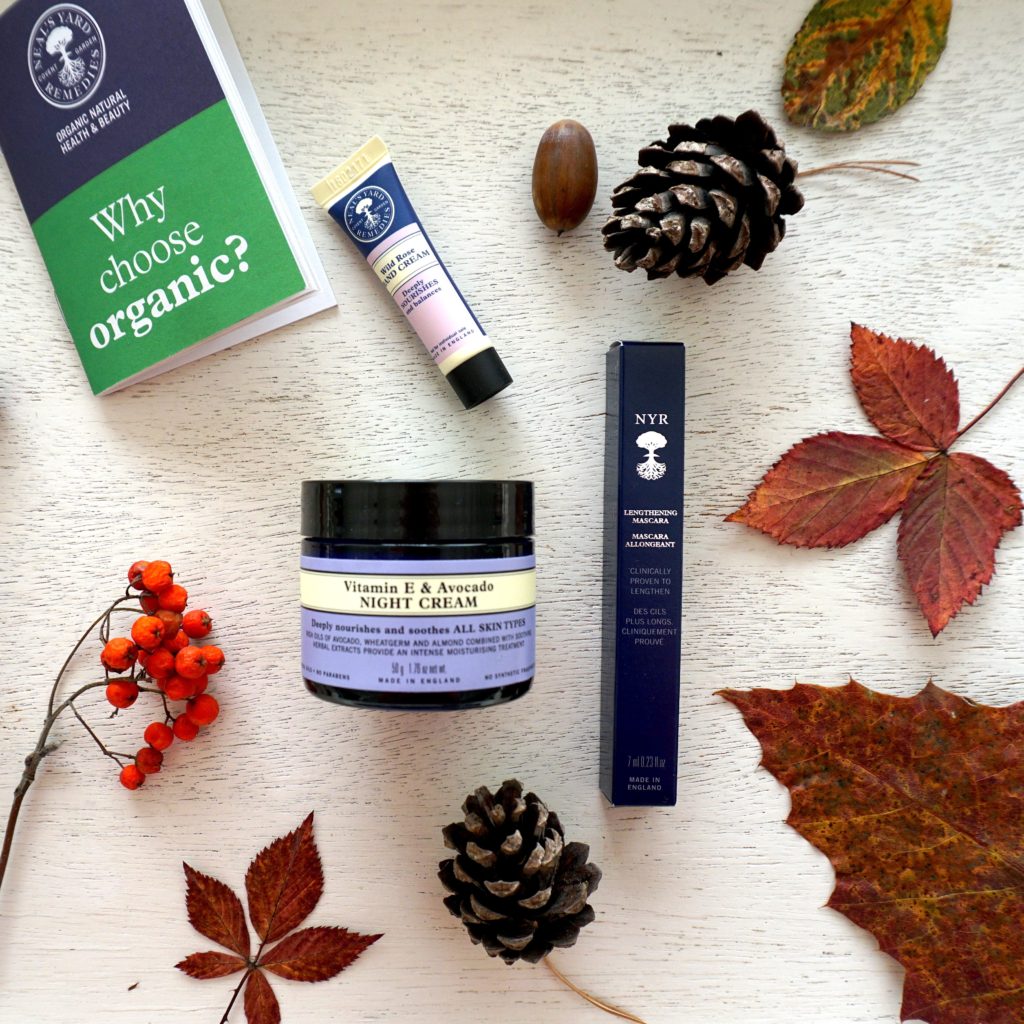 As mentioned in one of my previous posts, Neal's Yard Remedies is an ethical organic health and beauty shop in London. It's one of Britain's best-loved beauty brands.
After using the products for a few weeks, here is my review:
NYR's Vitamin E & Avocado Night Cream:
I have a sensitive combination skin and after using this product (Made with 91% organic ingredients!) for a few weeks I can say that I love this light and non- greasy cream. You can notice that it deeply nourishes the skin overnight, leaving it beautifully soft the following morning. I also love the fresh smell! About the packaging, Paula Begoun, the founder of Beautypedia.com, which rates skin-care products, has long opposed jar packaging. "Anything you can do to reduce the vulnerability of these ingredients by keeping them as much as possible out of the air and light means that the ingredients that you're banking on to improve your skin will be there after you open the product," Ms. Begoun said. According to other beauty sources, jars don't significantly affect product efficacy as long as proper preservative systems are used and the container blocks UV light (but these would apply to other types of packaging, too). However, with airless pump you are sure that the ingredients will not degrade. I wish all products were packaged this way. Also, through dipping your fingers in those jars, you might be adding bacteria into to the mix too. As a result, fort this product, I used a plastic spatula. I give this product 4 stars!
NYR Lengthening Mascara:
I love NYR's products and when I have read that this mascara is made with 78% organic ingredients and 5% natural minerals I really wanted to try this out! Also, NYR mentioned that the product is clinically proven to lengthen the lashes up by 85%, with a thickening tetra peptide, organic argan oil and antioxidant white tea. After using Lancôme's Hypnôse Drama for a few years, I really wanted to find an organic alternative…
Due to natural ingredients in this product your eyelashes are protected, conditioned and nourished. Also, I noticed that it has a more thin/watery consistency than the mascaras I used before. The brush is slim and fine, which means that the mascara goes on easily without any clumping or mess. However, I missed the "dramatic look" that I got from Lancôme's product but if you prefer a naturally beautiful look then this could well be the organic and nourishing mascara for you. Also, I have very sensitive eyes and when I removed the product, they were a bit irritated. Sorry NYR, I love your products but I give this product 2 stars!
Can't wait to try out more of NYR's products.